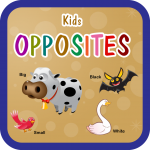 "Preschool Education: Sequential Colors, Shapes & Opposite" is a very cool educational application for preschool kids.
It covers a wide range of skills expected from 2-3 years old preschool kids. The games come with 6 sections covering:
✔ Colors: sounds of the colors and object with the same color
✔ Actions Verbs: help the toddlers learn the meaning of some commonly used actions
✔ Prepositions: help the toddlers learn the meaning of in, on, around, beside, behind, between.
✔ Opposite: help the toddlers identify the opposite of actions, prepositions
✔ Degrees of comparison: size, directions, and logic
✔ Shapes: the names of geometric shapes the toddlers and preschoolers need to know
We have always sought to provide the best for your children through applications designed, and directed each age group separately, our belief in the feature each evolutionary stage passes by your son, but in order to lend life skills and the mentality to learn and grow and play correctly and properly, and to communicate with his peers and the environment surrounding it.