Makkah Traveller Map Pro
Pocket Alert; Qibla AR Compass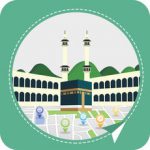 An elegant and accurate App for getting prayer timings and Qibla direction, no matter where you are. Its stylish yet easy and convenient interface is designed to make sure that you are kept updated with the pray times.
PLACES & INTEREST TRACKING
Never get distracted from your destination on the journey with this tracking feature on the map, along with finding all essential service providers and important sites
in Makkah. Pin your tent/hotel, locate the Kaabah, and discover major sites with detailed descriptions.
Live Streaming of Makkah
Behind sometimes, streaming sacred Makkah Live needed elaborate efforts but with this app, all your favorite channels are just on the go. Now streaming your favorite online TV channel from Makkah is as easy as clicking an app.
PRAYER TIMES – QIBLA DIRECTION ñ ISLAMIC EVENTS
A beautiful watch face with Qibla direction, a countdown to the next prayer and your current location – all the information you need on one screen!
HAJJ & UMRAH GUIDANCE
Easy to follow guidance, is intuitive and smooth to guide you through every step along the way.
Presented with beautiful pictures, easy to follow information and a corresponding Dua, wherever applicable.