Lose Weight in Seven Days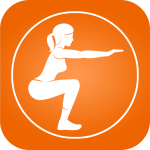 Weight Loss – is a Home Workout Trainer & fitness coach, an easy-to-use free app for you to keep fit and healthy.
■ For Both Man and Women■
Weight Loss provides 3 Levels – daily workout routines and diet plans to loose your weight fast. In just a few minutes a day, you can burn fat and keep fitness at home without having to go to the gym. No equipment or coach needed, all exercises can be performed with just your body weight.
👉What you can enjoy with – Weight Loss 10kg/10days, Trainer & Fitness Coach?
✓ Save money and time
✓ 10 minutes Home Workout.
✓ Diet plans for Fast Weight Loss.
✓ Get stronger, leaner, healthier with your Home workouts and diet planner.
✓ Lose weight, burn your fat and get leaner with – Weight Loss 10kg/10days, Trainer & Fitness Coach.
✓ Stay healthy with different diet plans and daily exercise.
✓ Follow given diet plans and weight loss workouts, witness the changes in your body and share your achievements with the world!
✓ Become a better you by using this simple but powerful training app.
If you have some restrictions: injuries, headaches, illnesses, consult with a doctor before starting physical activities.
We are not responsible for injuries that you may suffer during trainings.