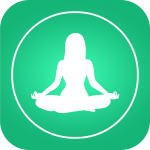 This daily yoga for beginners is designed to give you greater relaxation, more energy and joy. It moves through a series of relaxation poses to relax the lower back. Spinal twist for good massage of the abdominal organs. Final relaxation to really let go. You will feel full refreshed and recharged with these exercises.
BENEFITS OF DAILY YOGA
• Boost the immune system, keep fit and healthy,
• Lose weight and build muscle strength in a peaceful environment
• Improve your flexibility, keep your spine and bone health
• Increase your blood flow, relieve the body of fatigue
• Relax your nerve system, maintain a peaceful mind, help you sleep deeper
If you love yoga Download most professional free yoga app for Android.