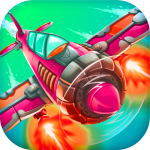 Battle Air Commander – Air fighter transfers you to the world of modern aeronautics
Come and feel the power of modern warplane in air dogfight!
Players will command their fighters to conduct an air war final decision with huge enemies in the sky.
Not only you could show your clever fighting way to your enemy but also you got varied weapons to fight in any situation!
New missile system is waiting for you to master!
Features:
– Smooth and simple aircraft control system!
– Realistic aircraft fighting game with 3D graphics
– Beautiful environments!
– Experience the thrill of chase fighters!
– Music alive in harmony with the game
Download the game for free, join us and rate us 5 stars to encourage us to improve the game continuously.